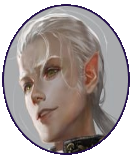 Time: Dusk
Location:
Carriage in the woods
Interactions: Rosaria
@Potter
, Jomari
@baraquiel
, Caelan
@Alivefalling
, Sophie
@princess
, Aurora
@chrysocoma
While Nuallán kept watching over both Jomari and their surroundings, he couldn't help but be distracted for a moment as the pixie that 'found' Sophie and decided to stay with her angrily smacked Sophie's hand with the strange, stick-like snack the human girl had given her. Pixies are normally known to be very mischievous creatures and this one in particular semeed to have energy to spare and quite an intense personality. When Sophie apologized for having dragged the pixie with her, the little fairy mentioned how she was an exiled fairy and 'demanded' to stay with Sophie since she had nowhere to go and Sophie had shared food with her, just before she started flying and pointing the snack towards Nuallán and Rosaria saying she would fight them if they didn't let her eat, which made Nuallán almost lose his composure and start laughing, having actually to hold his laughter, amused by the small pixie's antics.
Just as he was about to say something though, Sophie made a very serious question, which made him immediately get serious again as he silently looked towards Rosaria, waiting for either a reply or a signal for him to aid her. Fortunately, while he did see the exhaustion hidden beneath his Rosaria's expression, she gave a brief, but confident answer, before turning towards the small pixie and smiling towards her, asking for her name and asking Sophie about the strange stick she had given to the pixie.
In order to keep the conversation going and the morale high, Rosaria proposed for everyone to talk a bit about themselves, with the arrival of a few members, such as the talkative pixie. Finishing her introduction with a sad tone as she mentioned her brother, Rosaria asked Nuallán to continue.
"As you wish, my lady." he said, with a polite bow, before he faced the little pixie and the rest of the humans.
"As most of you might know by now, my name is Nuallán Varnion and I'm Princess Rosaria's butler and personal attendant, having been so for centuries, since I was very young." he said after clearing his throat.
"The Varnion family has been directly serving and protecting the royal Light Elf family for countless generations, honoring the tradition and the oath our ancestors took when the first kings and queens took the throne and created the Light Elf Kingdom." he said as he began explaining more about him, his family and it's history.
"Every generation, the Varnion family will have at least two children. The firstborn is always the one who will take the oath to serve the Royal Family, being bound to the member of the royal family he will serve from the moment they are born, while the younger child always takes the role of managing the family's estate and continuing the lineage." he continued.
"As the eldest child, I received extensive education since I was very young, being trained and taught by the elders in the Varnion family in order to seek nothing less than perfection and excellence when serving and protecting the royal family. Be it tending to their needs, giving accurate advices and consultation in the most varied matters if requested or even fighting to protect or to eliminate threats to the royal family's safety." he finished. While it was evident that he was proud of his position and who he was, he was clearly not gloating or boasting, with his tone being calm and professional instead.